Let's face it, we love to pamper our pets. We comment and joke about how our dogs live better than we do, but in reality we like to live vicariously through our pup's pampered lives. Sometimes that isn't always the case and we like to imagine our pets as mini versions of ourselves.
 1. Just ask Paris Hilton…
…She had a replica of her house built for her dogs complete with light fixtures and designer pillows. This might actually be one of the only dog houses that won't make the pet parent jealous-as it is basically the same house that the pet parent owns. (source)
2. City Living
OK, so now that I have already made my list null and void, let's continue on shall we? If your pooch is looking for something a little more along the lines of city living then look no further than this DIY Brooklyn Brownstone made by artist Bruce Tunis. This two story brownstone comes complete with working street light and of course the stoop that makes this style home so distinctive. (source)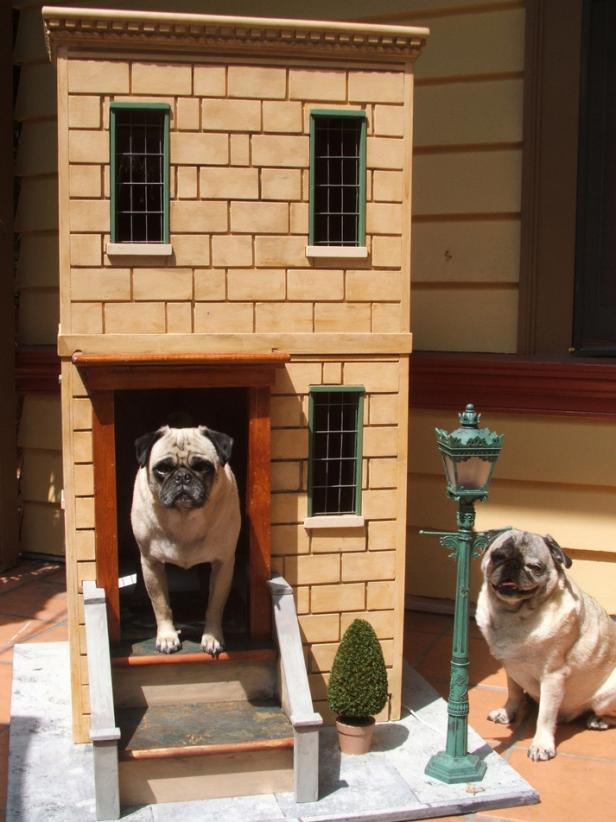 3. Mediterranean Mansion
If the close quarters of an urban brownstone town-home aren't really your style then this Mediterranean mansion should do the trick. This bad boy will cost you a pretty penny and was apparently designed for a Hollywood celebrity. Who is that celeb? No clue, but we can probably rule out Paris Hilton as her pooch palace is featured above. (source)
4. Crown Jewel
Speaking of palaces; how about a palace inspired dog house? Hmm-any palaces immediately come to mind? Of course, obviously the Taj Mahal! The "crown of palaces" (thank you Wikipedia) inspired doghouse is a marvel of Mughal architecture and can be had for a measly $40,000.00. If this home doesn't make you jealous then I don't know what will. (source)
5. Brick Colonial Manor
Not really into the exotic curves of the domed Taj Mahal? Looking for something a little more stately? Then check out this brick, colonial styled and fully loaded dog house! The amenities offered include: air conditioning, running water, heat and lighting! Stately and stylish. (source)
6.Cute Cottage
Looking for something equally attractive but a little more understated? Check out Advantek's Garden Cottage dog house. This adorable dog house comes with a garden box, vented window, food and toy storage box, as well as a set of bowls for food and water. And yes, the tiny adorable porch is included. (source)
7. As fun as a Barrel full of dog
Want something even more understated than a cottage? Do you like your barkers barrel aged? Then you are in luck! This DIY dog house is the perfect way to add some homey warmth to your household and it comes with the added bonus of being able to brag to your friends that you drank that barrel empty yourself! (source)
8. Thatch is how you do it
You like the cottage idea but want something that more closely resembles your favorite author and playwright's home from the 16th century? The Shakespearean, Stratford-Upon-Avon inspired dog house actually more closely resembles the farmhouse of Shakespeare's wife Anne Hathaway (no, not the award winning actress from Les Misérables). Anyway, be sure to dress up your pup in the poofy white collar thing to keep the wardrobe time period appropriate. (source)
9. Regal Beagle
So, you like the English styling, but want something a little more regal? Then you should see this Queen Anne style dog house. The house borders on ostentatious but the colors, unlike the actual Queen Anne style homes, which are generally bright red with dark trimmings, are much more muted, but include a stunning turret roof which is a real eye catcher and typifies homes of the era. Not included: blurry dog. (source)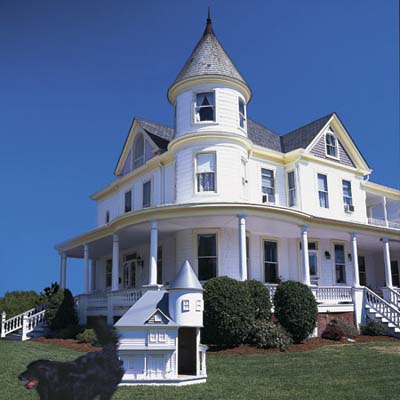 10. The Wright Dog House For you
Now this one is really cool. This Frank Lloyd Wright designed dog home is guaranteed to make you jealous of your pet, because chances are you don't live in a home designed by the man who the American Institute of Architects dubbed as "the greatest American architect of all time." The dog house might not look like much on its own, but the story and history makes this one undeniably jealousy inspiring. (source)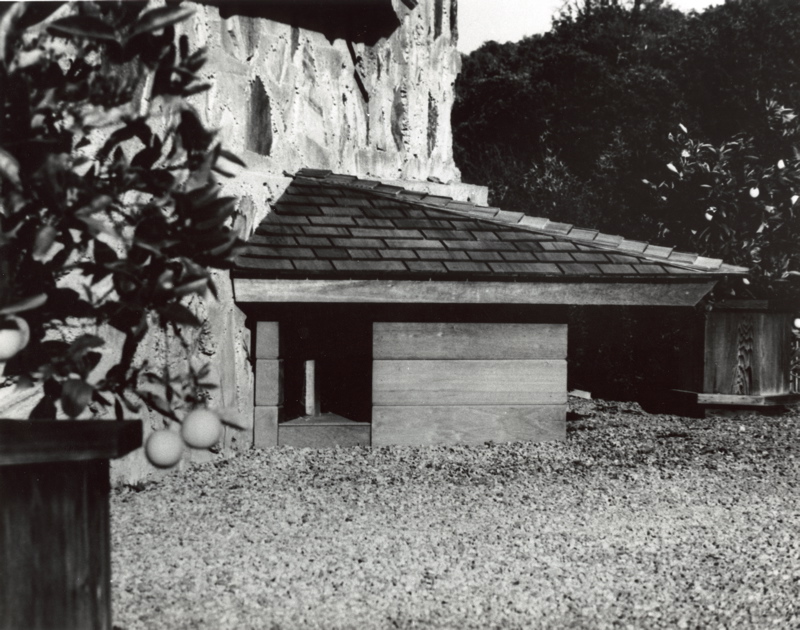 11. Bonus!
Speaking of famous architects…(source)